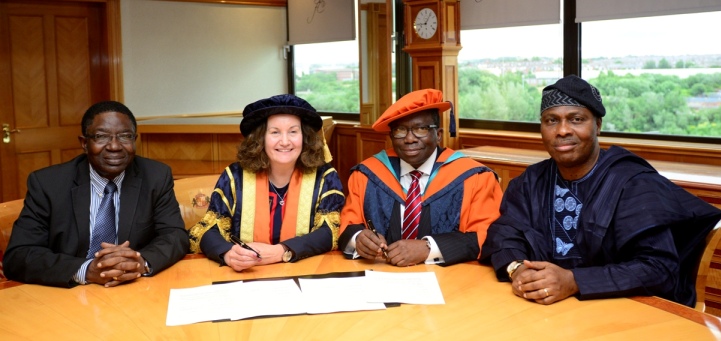 At a time the University of Ibadan is rated the best University in Nigeria and eighth in Africa, the University of Sunderland, United Kingdom has stepped forward to savour the experience of the premier institution in Nigeria by sealing a partnership deal with the Institution to support students and staff in the right way at the turn of the 21st century.
Contextualizing the three year Memorandum of Understanding agreement, the two universities agreed to collaborate for mutual benefits. These include progression arrangements for students within courses from undergraduate to postgraduate courses; transnational education and dual award degrees; collaborative and cooperative supervision of postgraduate research students and development and implementation of research and external engagement projects, particularly to support the development of academic staff.
At a remarkable ceremony on Wednesday, 8 July, 2015 at Sunderland, United Kingdom, the Vice Chancellor of the University of Sunderland, Shirley Atkinson, on behalf of his University and Professor Isaac Adewole, Vice-Chancellor and Mr. Olujimi Olukoya, Registrar both on behalf of the University of Ibadan, signed a Memorandum of Understanding (MOU) between the two Universities.
The Vice-Chancellor, University of Sunderland, Shirley Atkinson said: "It's a real honour to welcome Professor Adewole and the guests who have travelled to Sunderland with him from Nigeria. Professor Adewole and I both signed an agreement, on behalf of our Universities, to work together collaboratively, looking for ways to better link our two places of learning for the benefit of students, academic staff and our cities."
The UI VC, Professor Isaac Adewole said: "I'm delighted to have been welcomed to Sunderland to accept the honorary Doctor of Science and to sign a memorandum of understanding between the University of Ibadan and the University of Sunderland. I have received a tremendous welcome and there has been a great sense of celebration. It's a real honour and I look forward to the collaborative working between our two universities and what we can achieve together."
The two Universities have similar agreements with universities and higher education colleges across the world in a statement by the Director of Public Communication, University of Ibadan, Mr. Olatunji Oladejo.
Click to Share